Below you will find pictures of my red and white sportscars. They are driven frequently during the Spring, Summer and Fall months. During the Winter they are started at regular intervals. They are also driven in the Winter, if weather permits, on "dry days" (i.e., when Michigan roads are dry and do not have water, snow, ice or salt on the surface) . Both of these cars are quite fast and handle exceptionally well. Over the years, I have added quite a few high-performance parts. These high-performance parts have further enhanced their already awesome performance. Both cars are fun to drive. They also seem to attract lots of attention wherever they are driven.
Here are a few pictures of my triple black, six-speed, Corvette convertible. It is very comfortable on long trips. Both acceleration and high-speed stability are excellent! Fuel economy at "legal" highway speeds is impressive, also. Overall, I have been very satisfied with this vehicle.
This year, I decided to update the Vette's appearance with a set of ZR-1 style, chrome 5-spoke wheels. I've included a few pics below.
Below is my Mercedes ML320. To improve both its looks and performance, I added giant 18" X 9" chrome wheels shod with NT-404 Extreme Force SUV 285X50X18" high-performance road tires. Also, you may notice I added a Manik Grill Guard A-Bar, Wagner side tubes, and PIAA 520 Series Kit Crystal Fog lamps (they are quite powerful, kicking out 120,000 candle power each).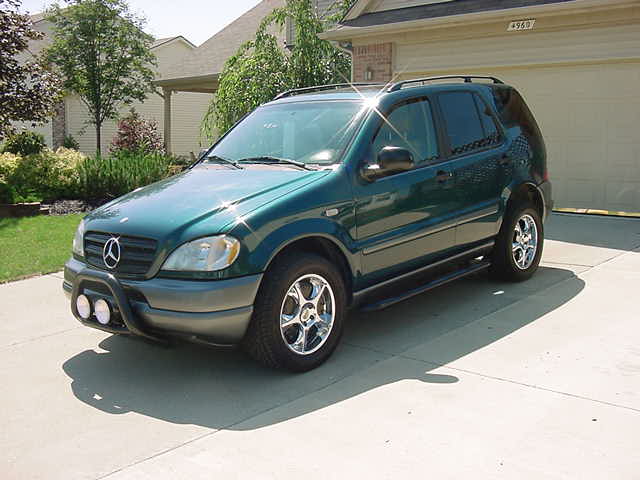 For the winter season, I have found it advantageous to temporarily exchange the chrome wheels for 18" X 9" high-gloss silver aluminum wheels shod with 275X55X18" Michelin Cross Terrain tires. Thus far, I've been very with this configuration. This Benz handles rainy, snowy and icy weather conditions with ease and the fog lamps really light up the road well when visibility is at a minimum.